It has been said that struggling people often focus on their problems, while successful people focus on the solutions. I totally believe this. You could also say it this way, "You can either choose to focus on the problem, or on the promise."
A shortcoming of most people, is they are unaware of many promises. They spend little time in the Promise book, where their faith could be built up.
The easiest way I have found to receive a promise is to focus on The Promise-er! I love to read the Word, and sing songs about the Character of my Heavenly Father.
Abraham knew this secret. "By faith Abraham, even though he was past age, and Sarah herself was barren- was enabled to become a father, because he considered Him faithful who had made the promise." *
My very favorite attribute of God is his faithfulness. I was raised by some Pastors who must have said it to me hundreds of times, "God is faithful!"
One time my husband, Paul, was laid off work for 8 months. It turned out to be the most peaceful, precious, supernaturally provided-for time of our lives together. Why? Probably because night and day, my mind was racked with talk and thoughts of how Faith-ful God is. The thought that he might leave us to "go under" was unthinkable. It honestly did not cross my mind. Instead, I was excited to see what He had in mind.
Faithful, faithful, full of faith, unwavering, true…I can just think on that word and get happy! Hanging around a Father like that will naturally fill you with faith of your own. It's not something you strive for. It's just his DNA, manifesting in you, his child.
Then you understand the meaning of this: "Have the faith of God," Jesus answered. "I tell you the truth, if anyone says to this mountain, 'Go, throw yourself into the sea,' and does not doubt in his heart but believes that what he says will happen, it will be done for him. Therefore I tell you, whatever you ask for in prayer, believe that you have received it, and it will be yours.
And when you stand praying, if you hold anything against anyone, forgive him, so that your Father in heaven may forgive you your sins."*
Whew! We'll talk about forgiveness next time. But for now, understand, having the "God-kind" of faith, is an effortless biproduct of fellowship with the Faithful one.
Today, as always, there may be a few problems, nagging for my attention. But I only have time for the Promise-er. How about you?
Enjoy the journey!
Gina
* See Romans 11:11, *Mark 11:22-25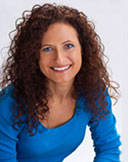 Gina Parris is an international speaker, performance coach, wife, mother of four, and a champion for the Sexy Marriage. She is dedicated to helping people heal their sexual and relational issues. Throughout the past 28 years, Gina has served on staff of several large churches and encouraged thousands of people -privately, in groups, through television, radio and other media. She also speaks to organizations on topics dealing with home and work balance. Gina combines the best of Sports Psychology, Energy Therapy and Biblical promises to help people enjoy a Love Life marked by victory.