So I made this video late last night, straight from the gym as I was thinking about the power that COMMITMENT brings to our lives. It's our 21st wedding anniversary, and for the first time ever, Mr. Parris (The Sailor) and I are apart for a whole year. Whatever you put your hand to, I hope you can find the joy that comes from not holding back. Jump in and commit!
You might laugh a little at our wedding picture here!
Many times we feel that we will somehow protect ourselves by not totally committing. It's like if we fail then, perhaps it will hurt less or something. However, I encourage you today – as much as it depends on you, make the COMMITMENT to yourself and those around you, that you are in it to win. Commit to whatever it takes to bring out the best in the people around you. Whether you are building a marriage, a family, or a business – your power is in your ability to keep going. I thank God a zillion times that we did not give up in the tough times. What do you think? Can we commit to success even if those around us do not? Share your thoughts below.
I'm in your corner!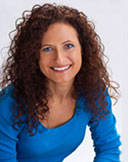 Gina Parris is an international speaker, performance coach, wife, mother of four, and a champion for the Sexy Marriage. She is dedicated to helping people heal their sexual and relational issues. Throughout the past 28 years, Gina has served on staff of several large churches and encouraged thousands of people -privately, in groups, through television, radio and other media. She also speaks to organizations on topics dealing with home and work balance. Gina combines the best of Sports Psychology, Energy Therapy and Biblical promises to help people enjoy a Love Life marked by victory.