My youngest son's baseball glove had been missing for over a week. We had turned every corner upside down looking for it. In our house, the loss of a beloved glove is quite painful. We are not quick to run out and replace one. It was with sadness that I watched him play his games with a borrowed glove. Who in the world would take such a thing?
Yesterday, happiness filled the home when the glove was returned. While the children played out front climbing the trees, a stranger drove up and hollered out to them. She was someone's mother. She looked at Nathan and asked, "What is your last name?"
"Parris." He answered.
"Did you lose a glove?"
"Yes!"
She handed him the treasure, inscribed with his name, and drove off.
I love it when people do the right thing!
This morning, I looked at the dear glove, at home in the family room, cradling a baseball, and I rejoiced again.
Luke 15:8-10
"Or suppose a woman has ten silver coins and loses one. Does she not light a lamp, sweep the house and search carefully until she finds it? And when she finds it, she calls her friends and neighbors together and says, 'Rejoice with me; I have found my lost coin.' In the same way, I tell you, there is rejoicing in the presence of the angels of God over one sinner who repents."

And again I say, rejoice!
-Gina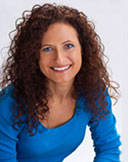 Gina Parris is an international speaker, performance coach, wife, mother of four, and a champion for the Sexy Marriage. She is dedicated to helping people heal their sexual and relational issues. Throughout the past 28 years, Gina has served on staff of several large churches and encouraged thousands of people -privately, in groups, through television, radio and other media. She also speaks to organizations on topics dealing with home and work balance. Gina combines the best of Sports Psychology, Energy Therapy and Biblical promises to help people enjoy a Love Life marked by victory.