This is currently my favorite little video on youtube. ha! Sweet wife videos her husband waking up from surgery. Now he is seeing her for the first time. He is still heavily sedated by totally elated when he realizes she is his wife.
Hopefully his expletive doesn't offend you. It's said in all sincerity.
Have you ever seen your mate in a whole new light? If so, please share below.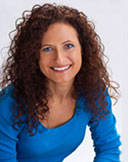 Gina Parris is an international speaker, performance coach, wife, mother of four, and a champion for the Sexy Marriage. She is dedicated to helping people heal their sexual and relational issues. Throughout the past 28 years, Gina has served on staff of several large churches and encouraged thousands of people -privately, in groups, through television, radio and other media. She also speaks to organizations on topics dealing with home and work balance. Gina combines the best of Sports Psychology, Energy Therapy and Biblical promises to help people enjoy a Love Life marked by victory.