"Invest just 1% of your time into an area of your passion – I guarantee you will be successful." -Success Guru #12
Recently, my friend Dustin Reichmann and I were discussing this quote about investing 1% of your time into some area of your passion in order to be successful.
Dustin had found these words to be life-changing although he didn't remember who said them. It turns out that 1% of your day equals about 15 minutes. This idea should work in any area, but Dustin decided to invest 15 minutes each day into his marriage, to see if he could turn things around there. And yes, he sure did. In fact, he wrote a book about it.
Frankly, I would have found this idea laughable. Fifteen minutes? Give me a break! What good is that? Haven't you read all the studies that say it takes 10,000 hours to become truly proficient at something? Ten thousand hours equals about six hours a day for 10 years. Surely even building a relationship takes something like that.
Then my husband got deployed. Or perhaps the correct term is "activated," in his Navy Reserve Unit. I don't know much about this job – as it's just something that he usually does 1 weekend a month. Now however, he has been gone for 10 months to the Gulf, supporting his army brothers as they come in and go out of the hell-hole. Oops. I meant to call that the "theater."
Anyway, remarkably, The Sailor and I have a marriage that is even stronger than it was when he left. The more I thought about it, the more I realized that our love- boost is the result of an average of 15 minutes that we get to spend together by video chat or phone, most days. What makes that work? A few things that you can try even if you're not away from your love.
1. We are so grateful for the connection and eachother.
The opportunity created by technology feels like an absolute miracle.
2. We focus on what the other one is doing well.
The "small stuff" just is not worth sweating from here.
3. We treat our connection time like its the most important moment of the day.
4. I tell him truthfully how much I admire him for the job he is doing.
(I had no idea he would manage 420+ people across 8 countries.)
5. He tells me how much he loves me.
All that in just 15 minutes a day, and it's taken us to a whole new level. Sadly, many couples stretched by distance do not grow closer. Not only that, many couples who live in the same house every day fail to connect on a meaningful level, but they could.
I don't expect life to be a breeze when he gets home, but I sure can't wait till he does. In fact, I'm counting down the weeks – maybe just 5 more weeks to go!
How can you strengthen your most important relationship this week in 15 minutes at a time?
If you're not sure, I recommend The 15 Minute Marriage Makeover by Dustin Reichmann. It is completely brilliant! Please check it out right here:
http://bit.ly/mmin15
Also, I am working on a big event that's coming right up. I'll tell you about it in the days ahead.
Until then, keep playing to win, enjoy your weekend and enjoy your game!
I'm in your corner,
Gina
P.S. Dustin will be a featured expert on a summit I am hosting next month to help people build a love life that is sizzling, sexy and sacred. You will love it!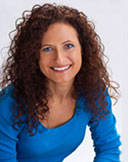 Gina Parris is an international speaker, performance coach, wife, mother of four, and a champion for the Sexy Marriage. She is dedicated to helping people heal their sexual and relational issues. Throughout the past 28 years, Gina has served on staff of several large churches and encouraged thousands of people -privately, in groups, through television, radio and other media. She also speaks to organizations on topics dealing with home and work balance. Gina combines the best of Sports Psychology, Energy Therapy and Biblical promises to help people enjoy a Love Life marked by victory.