When a husband and wife choose to do life together, it is possible that the life contains seasons of death. They may endure the grief of miscarriage, losing a child, or even the grief that comes from facing a serious medical diagnosis like cancer.
Many marriages become the second casualty to such life altering blows. Not every couple knows how to respond to the emotional challenges in such tough times. However, with the right perspective, a couple can become stronger in times of grief. If you ever wanted to help any friends who were dealing with deep loss in their life or marriage, you can learn some great lessons from Erica McNeal.
In her book Good Grief, Erica recounts the lessons learned and wisdom gained through such grievous times. By the time she was just 33, Erica was a 3-time cancer survivor and she had lost 5 children two of whom she held in her arms.
If you've ever faced great loss, you will be moved and encouraged by her words. If you have ever wondered how to care for a loved one who is suffering sickness or loss, Erica's book is a must.
She opens your eyes to the immensely painful words people say when trying to be helpful. Then she gives you ideas of things to do and say instead, in order to bring life.
Let's just glean a few, whether dealing with a friend who is grieving over cancer or the death of a child:
DON'T SAY THIS:
"I know how you feel…"
If your friend knows you went through something similar, they will seek out your wisdom. Instead you might want to say, "I image you are feeling hurt, angry confused…am I right?"
DON'T SAY:
"It could have been worse."
Your loved one can't imagine feeling worse.
DON'T SAY:
"Every thing happens for a reason."
If you can't clearly explain a good reason, (and its likely you can't) then avoid this phrase. It can trigger anger and resentment.
THINGS TO TRY INSTEAD:
"What can I do to help?"
They may have no clue or they may have a laundry list of ideas. Enlist the help of other to provide tangible relief.
"It's okay to cry."
or…
"I don't know what to say, but I love you."
This kind of honesty can go a long way.
Mostly Erica reminds us that a person who is suffering mostly wants to feel loved and cared for – not forgotten.
Good Grief is about creating an Oasis in a time of suffering.  As a reader or as one who is suffering, you will feel encouraged and refreshed as you read her story and lessons. You may be able to strengthen your own marriage by understanding the grieving of your mate. You may be able to save a marriage by being a solid friend in time of need.
As part of Erica's launch of this book, you might get some prizes just for making a purchase between June 11th – 16th 2012.
Purchase an eBook, soft cover, or hard cover copy of Good Grief! and send your receipt to goodgriefgifts@gmail.com. Each person who sends their receipt will:
1. Have up to 5 opportunities to win one of the following daily thank you gifts:
a. $45 Carrabbas Gift Card
b. $45 Outback Gift Card
c. $50 Amazon Gift Card
d. $50 Best Buy Gift Card
e. Signed Hard Cover copy of Good Grief! and a Signed copy of The Hour that Matters Most from Les and Leslie Parrott
2. Receive a free downloadable podcast of my talk, You Are Not Alone.
3. Receive a free downloadable recording of the Intro of Good Grief!
Purchase 10 or more copies of Good Grief! and email your receipt to goodgriefgifts@gmail.com to receive a six week Good Grief! Small Group Discussion Guide. As soon as your receipt is verified, you will receive a .pdf of the discussion guide.
You can get her book right here:
I do NOT receive any compensation for sharing this with you. I just find it a very helpful resource, like everything I share.
Do you have any tips you'd like to share with those who are dealing with grief? If so, please comment below.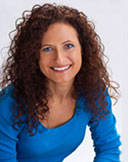 Gina Parris is an international speaker, performance coach, wife, mother of four, and a champion for the Sexy Marriage. She is dedicated to helping people heal their sexual and relational issues. Throughout the past 28 years, Gina has served on staff of several large churches and encouraged thousands of people -privately, in groups, through television, radio and other media. She also speaks to organizations on topics dealing with home and work balance. Gina combines the best of Sports Psychology, Energy Therapy and Biblical promises to help people enjoy a Love Life marked by victory.