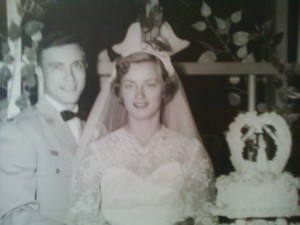 As I type this post, my mom and dad are celebrating their 56th wedding anniversary. I am looking at the faded black and white photos and smiling big. Fifty six years! Today they barely look old enough to have been married so long, but the more I think about it, the more I realize what a gift their love is.
They only knew each other for 6 weeks before they got engaged. My dad was so handsome, my mom used the ole ' "Hey I think I left my rosary in your car," line to see him again after their first encounter. What a clever Catholic girl.
Raising us five girls could not have been an easy task. We were drama to the fifth degree, and Dad was often gone flying with his Air Force crew. They endured war, cancer, heart disease, blindness, and a myriad of other challenges, as does every couple.  But I asked them this week what secrets they have to share for a long happy marriage.
Dad – "Never miss an opportunity for a kiss and a squeeze!"
What growth from a man who used to return from weeks of flying long enough to drop off his laundry and hit the golf course. Ha! His kisses and squeezes usually came AFTER golf in those days.
Mom – "Learn to laugh, laugh, laugh!"
I remember when they would watch shows on TV together and laugh until they couldn't breathe. Their laughter would fill the whole house. It would be years before I could watch their shows (like MASH) and understand the humor at all.
Mom & Dad – "Learn how to not be easily offended."
They will both tell you that this one took the longest to figure out. But the reward is true joy and happiness.
Some keys to not being easily offended:
-choose to think the best of people
-love your spouse with all their imperfections
-be more concerned about understanding your mate than being understood
-decide if you'd rather be right or be reconciled
-learn to forgive from your heart
People say that the institution of marriage is dying and becoming irrelevant. I say those who work to create a lifelong love have created the most relevant gift in the universe.  Happy Anniversary, Mom & Dad. Thanks for the discovery that very often "the better"comes after "the worse."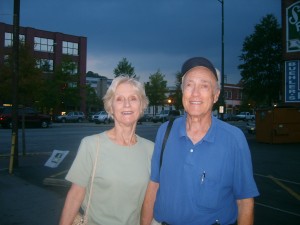 One more tip that they both believe in is to take excellent care of your health. You can see that they could both probably still fit into their wedding clothes, (in fact I'm POSITIVE dad still wears the bermuda shorts he got on their honeymoon.) I am convinced that their good health is what helped mom survive cancer and helped Dad stay strong despite his propensity for heart disease.
I invite you to join me for a FREE teleseminar on Thursday, August 18, with my good friends, Dustin Reichmann and Tony DiLorenzo from Fit Marriage to discover easy, sexy ways to rekindle the fire by fitting in some fitness.  I'll be there!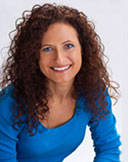 Gina Parris is an international speaker, performance coach, wife, mother of four, and a champion for the Sexy Marriage. She is dedicated to helping people heal their sexual and relational issues. Throughout the past 28 years, Gina has served on staff of several large churches and encouraged thousands of people -privately, in groups, through television, radio and other media. She also speaks to organizations on topics dealing with home and work balance. Gina combines the best of Sports Psychology, Energy Therapy and Biblical promises to help people enjoy a Love Life marked by victory.