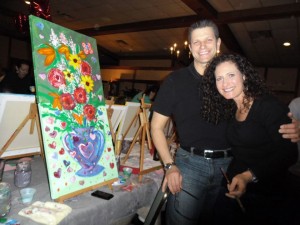 Sometimes you just need some creative idea to get out and do something new with your mate. This is one of the ways to spice up your marriage. Really, it's not ALWAYS about buying sexy lingerie.
Recently, Paul and I joined a bunch of our friends for something we had never done before: Date night where we painted a picture, shared some drinks and played a few fun games. I'm sure that if our friends had not hounded us a bit to come, that we would have just sat home that night and missed out on some totally new ways to interact together.
What is so great about getting out and trying some creative date, is that you get to see your mate in a whole different light and you tap into a different energy than you are used to. Now my  husband would NEVER consider himself an artist (and in fact, that is not a 5 karat diamond in his earlobe, Its just the light from the chandelier behind him.)  When we first started painting we had no idea that we were ultimately making one painting. We just had instructions to paint our backgrounds whatever color we wanted. Then all the ladies found out we would paint any kind of vase that we wanted, and the fellas would paint flowers. It was hilarious – and everybody's artwork was totally different, and equally beautiful.  Out of the 52 people that were there, most said, "We have never done anything like this – it's been a blast."
This made me realize how little creativity we often put into our own most precious relationship! Perhaps it's because we get so busy, or we get into our routine. Somehow we are made to maintain homeostasis – you know, that boring place where everything stays the same, and yet at the same time we have these innate needs for adventure and surprise. When you can create a balance (or a tension) between security and adventure, you have a relationship that comes alive.
I encourage you to make a list of creative date ideas. If you need help thinking of budget-friendly ideas, than try this nifty ebook: 300 Creative Dates.
I've noticed that in our house, sometimes our best dates have been in groups with friends. That's when I get to watch Paul at his most lighthearted self. Research shows that watching our mate from a distance can enhance the erotic connection between us.
Some of our best dates have included camping trips, water skiing and snow skiing days, float trips in rafts or canoes. Sometimes it's just fun to go play racquetball or shoot at the firing range. Somehow that really turns him on when he sees me shoot pistols. I have NO idea why. All those guns actually give me the willies, but I do like learning new stuff – and facing my fears.
At any rate, I encourage you to write down a list of activities you MIGHT like to do together and then put something on the calendar and do it. Don't be afraid to try something that strikes you as totally dumb at first. Sometimes the old adage "Try it, you'll like it," just comes true.
Also take note of activities that didn't go so well. In our case, taking a canoe out on the lake here sounds like a romantic idea, but apparently I'm a fairly bad "rower," which means we are all happier in two separate canoes. You however, may just love sitting there while your mate takes you to some isolated cove!  Oh yeah, take some blankets. 🙂
Here's a tip. Some say making love last takes work. I say it just takes effort!
Creative dates are worth the effort.
Please share your creative ideas below. I believe in you!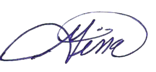 Gina Parris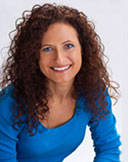 Gina Parris is an international speaker, performance coach, wife, mother of four, and a champion for the Sexy Marriage. She is dedicated to helping people heal their sexual and relational issues. Throughout the past 28 years, Gina has served on staff of several large churches and encouraged thousands of people -privately, in groups, through television, radio and other media. She also speaks to organizations on topics dealing with home and work balance. Gina combines the best of Sports Psychology, Energy Therapy and Biblical promises to help people enjoy a Love Life marked by victory.