Times of change can bring a feeling of crisis to your marriage.
However, rather than creating a breakdown, it can truly be time for breakthrough. It all depends in how you embrace the change.
What if you are sensing something big coming up? Perhaps you are looking at  a new career, a new town, a new home. Understandably, this can come with trepidation.
Here's the fear:
"What if we go through this big change, and we are ruined? What if we can't handle the stress, or it doesn't heal something that needs healing?"
These are great questions.
I'm reminded of a quote that says, "Wherever you go, there you are."
(I know, my husband thinks that's a laughably dumb quote, but I think it holds truth!)
If the problem wherever you go is internal, than no external situation will change it. If you have always been a restless soul, and can't stand your life, than uprooting your family will probably not help you. You need to make changes for very clear reasons.
Paul and I are in the middle of a transition that's taking much longer than we expected. He got a new career six months ago. The commute is 90 minutes each way, and I had figured relocating this summer would be a piece of cake. But our house has not sold and we're not planning to make two mortgage payments, so he makes the exhausting drive each day.
What I do know is this:
The change for him is worth it. His previous company was too dysfunctional to spend a lifetime giving to. The stress was killing him.
We cannot stay in environments that suck the life out of us. We can't ask our mates to do so either.
Today, I can see that despite the fatigue, I have my cheerful husband back. Our whole family is also enjoying the process of change.
So, here are some questions for you, if you are feeling some pressure to breakdown or break through:
1. What are you looking to create in your household?  Are you clear on the inside of who you want to be, what you want to do, and what you want to have?
2. What are the biggest fears standing in your way?
3. If you stay where you are (emotionally, spiritually or physically) will you look back in a few years with huge regret?  Regret is more painful than failure.
4. How can you best support your spouse as you move forward?
Once you have some clarity of purpose, than get out there and seize the day. Do whatever it takes to come into agreement with each other and get excited about the possibilities. Then take action.
I applaud you for seeking change and growth. Even if you knock on doors that stay closed, you will grow and find new doors open up. Enjoy the journey and who you are becoming in the process.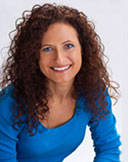 Gina Parris is an international speaker, performance coach, wife, mother of four, and a champion for the Sexy Marriage. She is dedicated to helping people heal their sexual and relational issues. Throughout the past 28 years, Gina has served on staff of several large churches and encouraged thousands of people -privately, in groups, through television, radio and other media. She also speaks to organizations on topics dealing with home and work balance. Gina combines the best of Sports Psychology, Energy Therapy and Biblical promises to help people enjoy a Love Life marked by victory.