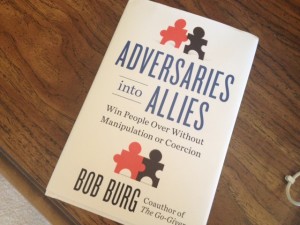 Bob told me that he feels this is the book he was put on the planet to write. Wow. That's quite a feeling.  I do consider Bob a personal friend of mine, but we didn't become friends until after his previous book, The Go Giver practically changed my life. ( The Go-Giver is a little business parable that he and John David Mann wrote, and it sold over 300,000 copies.)
I couldn't wait to read this book if Bob's feelings were so strong about it.
Adversaries into Allies is a series of life lessons on becoming an Ultimate Influencer. The chapters are really short – so you can read one a day for a few months if you want. This is how I use the book with my teenage sons. They take turns reading a chapter on the way to school and we talk about it.  They actually love that kind of stuff. 🙂
What I appreciate about this book is that it's not just about influencing and persuading others; it's doing so the *right way* so that they feel good about themselves, about the situation, and about you. In other words, everyone involved comes away a winner.
You can get the introduction and Chapter One by visiting www.AdversariesintoAllies.com and take a look just at what you learn there.
Remember, You are NOT effective if you have to lead by coercion or manipulation!
You become a great influencer by helping people make decisions that are not only in your best interest, but in alignment with their best interests as well.
In ADVERSARIES into ALLIES, you'll learn how to simply and effectively master the Five Principles of Ultimate Influence—the ability to get the results you want from others while making them feel genuinely good… about themselves, the process, and about you:
Control your own emotions: Responding calmly rather than allowing your emotions to get the better of you will ensure not putting others on the defensive but rather help them remain open to your ideas.
Understand the clash of belief systems: Every individual operates based on an unconscious set of beliefs, experiences, and ideas, which are most likely very different from yours. Understand this and you can avoid confusion and numerous misunderstandings that stand in the way of most people's ability to influence.
Acknowledge their ego: People want to feel good about themselves; if you make someone genuinely feel good, you're one step closer to making an ally.
Set the proper frame: People react and respond to other people. Approach potential conflicts from a position of benevolence, resolution, and helpfulness and they will follow suit. Vital: being able to reset another's already existing negative frame.
Communicate with tact and empathy: While the first four principles are vital, this is what brings it all home. Saying the right thing at the right time makes all the difference in terms of moving people to your side of the issue and taking the appropriate action that benefits all concerned.
After he briefly explains these five, Bob Burg then takes you through real-world, practical examples that will show you how  truly become a master of "people skills."
And, to quote Burg, "your life, and your business, will most likely be a lot more fun, a lot less stressful, and a lot more profitable."
If you're anything like me, you'll find yourself reading certain chapters and responding with something like,
"Oh man! I wish I'd read this BEFORE I'd said such and such to so and so! Ouch."
Great news: We're all growing in our abilities to lead others in ways that help everybody win.
Get this book – it will help you grow faster.
-Gina
I had the opportunity to read the book before it was released to the public. I recommend it very highly. But, you don't have to just take my word for it. Visit www.AdversariesintoAllies.com and get the Introduction and Chapter One. Then buy the book. You'll be glad you did.
P.S. You might get a kick out of the snapshot below. It's me and Bob Burg after sharing the stage at Dr. Mollie Mart's Best Life Design Conference in Chicago. Most troubling may be how shady Mitch Matthews and John Morgan appear in the background. 🙂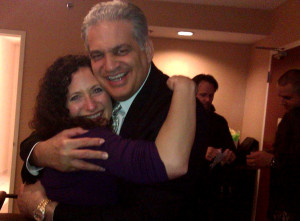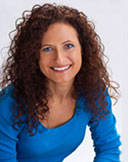 Gina Parris is an international speaker, performance coach, wife, mother of four, and a champion for the Sexy Marriage. She is dedicated to helping people heal their sexual and relational issues. Throughout the past 28 years, Gina has served on staff of several large churches and encouraged thousands of people -privately, in groups, through television, radio and other media. She also speaks to organizations on topics dealing with home and work balance. Gina combines the best of Sports Psychology, Energy Therapy and Biblical promises to help people enjoy a Love Life marked by victory.