From Gina: Today's guest post is from one of our SexySummit Experts, Julie Sibert. I love her refreshing points of view. Share your thoughts below as well.
3 Reasons Sex is Better AFTER the Honeymoon
-By Julie Sibert
My husband and I spent our honeymoon in San Antonio when we married eight years ago.  We ate leisurely meals, explored the Riverwalk and thoroughly reveled in each other's company.
As for the sex…well, it was okay.
Just okay. (He would say the same thing).
We had never had sex with each other before we said our vows, so it was unexplored territory for us.  We certainly couldn't claim that we were naïve or innocent, because we each had sex in previous relationships.  But this time around, we decided God's plan of waiting held some merit.
Suffice to say, our physical intimacy on our honeymoon and in the immediate weeks that followed was awkward.
If, though, you were to ask me about our sex life now, my smile would be the only answer you need.
As the years have rolled by, sex increasingly has become fantastic for us.  The more we nurture it, the more we value it. Even within the first year of our marriage – once the brief awkwardness passed – we gained good ground on knowing each other sexually.
Some people swear that newlywed sex is the best, and that the longer they are married, the less enjoyable sex becomes.
As a wife who blogs on sexual intimacy, though, I assure you that I hear from plenty of people in another camp – people who have never found sex to be a haven of delight in their marriage.
Then there are people like my husband and me, who hang out in the rare camp of sex becoming more pleasurable with each year of marriage.
Regardless of how you would characterize sex in your marriage, I think the greatest potential for amazing sex happens long after you've placed wedding photos in albums and packed away the beautiful dress.
Here are three reasons I believe sex gets better after the honeymoon:
1. You know each other in the context of everyday life.
Some would say this is a detriment to awesome sex, but hang in there with me. If we intentionally look, we will see that falling in love is not nearly as rich as being in love.
When you do enough life together, you forge a friendship that can't help but make sex better.  It takes effort, though.  You have to purposely allow the good and hard experiences of life to refine you toward oneness, not derail you into isolation.
When we are safe being real with the person we married, we enjoy physical intimacy that is indescribable.
2. You grow up.
My husband and I were already fairly grown up when we got married (I was 33 and he was 37).  Even so, we are more grown up now in our marriage than we were then.
The older we get, the more aware we become of who we are as individuals and as a couple. I have a much better sense of who I am as a woman now than I did when my husband and I married (and certainly more so than I did in my 20s).
From a sexual standpoint, I know what turns me on.  I know the kind of sexual touch my body craves and savors – and how to communicate that to my husband.  My husband knows himself better, too.
We are grown-up people doing grown-up relationship.  That is rich ground for off-the-charts sex.
3. You stop waiting for "someday" to make your marriage better.
For some marriages, particularly ones that have been contentious for a long time, this last point is a stretch. I know.
Many marriages (maybe even your own) have settled into unhealthy patterns.  The relationship, including the sexual intimacy, is marred by misery at worst and polite tolerance at best.
Even in such dire situations, though, there can be hope. Sometimes, one or both spouses sits up and takes notice.
If the pulse of your marriage has become weak (or, dare I say, undetectable), my heart cries out to you to recognize that a lot is at stake.  You've sunk time, heart and years into something that could very well die right in front of you – if you don't do something.
I'm not talking about desperation sex (to which some people resort, usually without much success).
I am referring instead to a genuine willingness to walk a healthier direction in the relationship.
Lay the cards on the table.
Shed light into lonely places.
Ask for and extend forgiveness.
Begin again, even in small ways, to rebuild trust, companionship and physical closeness.  It takes courage to look squarely at what is skewed in our marriage, and to stop waiting for "someday" to make it better.
Great sex long after the honeymoon?  It is possible. Even probable, if you want it to be.
Sure, you're not 25 anymore.  But who cares?  I wouldn't want to be 25 again.
I'd rather be exactly where I am right now in life, experiencing marriage with the man to whom I pledged my life. And my body.
Julie Sibert writes and speaks on sexual intimacy in marriage.  You can follow her blog at www.IntimacyInMarriage.com, find her on Facebook and follow her on Twitter.  She lives in Omaha, Nebraska, with her husband, their two sons and one rambunctious German Shorthair Pointer dog who refuses to stay in the fence.
 CHECK IT OUT:
Julie Sibert was also one of the experts on our Love & Sex Summit. If you hang around 10 experts who have overcome intimacy issues in their own relationships and lived to THRIVE about it – you will be changed too.  If you don't own these marriage boosting audios and transcripts, than by all means get them now by clicking the link below!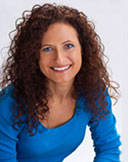 Gina Parris is an international speaker, performance coach, wife, mother of four, and a champion for the Sexy Marriage. She is dedicated to helping people heal their sexual and relational issues. Throughout the past 28 years, Gina has served on staff of several large churches and encouraged thousands of people -privately, in groups, through television, radio and other media. She also speaks to organizations on topics dealing with home and work balance. Gina combines the best of Sports Psychology, Energy Therapy and Biblical promises to help people enjoy a Love Life marked by victory.