Home
Build Intimacy in Your Marriage TONIGHT
Winning at Romance is about Building a Love Life that is sizzling, sexy and sacred. It is about losing our insecurities and finding our god-ordained place of love. It's about reclaiming married sex as the best sex, and celebrating the way we are fearfully and wonderfully made. It's about a New Sexual Revolution.
Download your free audio program: Five Keys to Really Great Sex Tonight – Even If You're NOT in the Mood, and get started on the road to greater passion in your marriage today.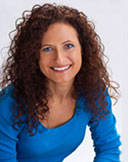 Gina Parris is an international speaker, performance coach, wife, mother of four, and a champion for the Sexy Marriage. She is dedicated to helping people heal their sexual and relational issues. Throughout the past 28 years, Gina has served on staff of several large churches and encouraged thousands of people -privately, in groups, through television, radio and other media. She also speaks to organizations on topics dealing with home and work balance. Gina combines the best of Sports Psychology, Energy Therapy and Biblical promises to help people enjoy a Love Life marked by victory.